BCY Bowstring And Serving Material - Developed by People Who Really Understand Archery
Since its founding in 1990, BCY has been dedicated to serving the needs of archers, bowmakers, and stringmakers with the latest advances in bowstring technology. With our knowledge of the archery industry and the cooperation of our fiber suppliers, we know how to develop, test, and provide the industry with the latest and best in bowstring material.

BCY leads the way in innovative material improvement and product advancement, constantly experimenting with ways to adapt the latest fibers to the archery bowstring market. BCY also uses feedback from amateur and professional archers worldwide. This is why BCY bowstring material is the choice of hunters and competition archers everywhere, and is specified as original equipment by major bow manufacturers.

We stay involved with the sport, and our products are designed with a superior understanding of the technical requirements of the industry that only years of experience can bring. You can be assured of our attention and personal service, whether you are making a single bowstring or producing them commercially. With BCY's specialized range of products, large variety of colors and serving options, we have a product suited to you, whatever bowstring characteristics you require.


Discontinued Items
September 2022, Please note that BCY is discontinuing production of the Yellowstone String Jig and the Microstretcher. Parts will be available while inventory lasts.


Angel Majesty Serving & Bowstring Material
Effective 01/01/22, BCY will no longer be distributing Angel Majesty products. Made in Japan and for years, deliveries have been unreliable, resulting in upset customers. BCY Bowstring is manufactured in CT in the U.S.. Despite occasional delays, we pride ourselves on customer service. We can't do that with Angel Majesty. BCY options are available. Please check. We assume Angel will make alternate arrangements to distribute their material. download a press release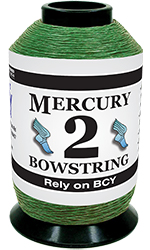 Mercury 2 Bowstring
Dec 2021 - BCY announces Mercury 2 Bowstring, a larger version of the popular Mercury Material. Made from the highest strength Dyneema, it has very low creep. For use in crossbows and some compounds, as an alternate for Force 10. download a press release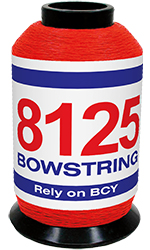 8125® Bowstring
Feb 2021 - BCY has been awarded a trade mark for 8125 by the US Patent and Trademark Office; Reg. No. 6,200,120. For performance and safety's sake, make sure you get BCY's 8125®.